Travelling With a Horse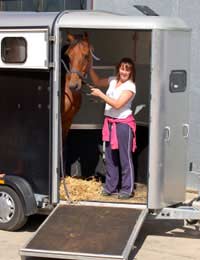 More families than ever now own horses and ponies. There will come a time when you need to transport the horse and it is not as easy as popping a dog into the hatch back car and setting off.
Stress
Horses prefer a quiet life in a field eating grass. To inflict travel on them in an enclosed space on a noisy motorway will bring a great deal of stress to the life of these placid animals. Horses are companionable animals, they like the company of other horses and to be alone trying to keep their balance is not at all pleasant. Stress will show in many ways from sheer panic to fright that will make them unstable to handle.
Forward or Backwards
Horses travel best facing backwards or sideways in a horsebox. It seems that they are better able to balance themselves and are more comfortable during the journey. Practise loading and unloading the horse so that it becomes second nature to both of you and less stressful to the animal.
The Journey
Horses need fresh air so try to keep any windows in the horsebox open. Make frequent stops to allow the horse water and human contact. If a horse sweats it will become cold. Leave forage in the stall as this will take the horse's mind off the stress of the journey. Plan your journey ahead of time and remember that if you are towing a horse box for the first time you may encounter height and width restrictions.
Horse Box
These can be very expensive and if not used a lot are false economy when purchased. You may be able to hire a horsebox from a stable owner or a proper hire company. Muck out at every opportunity and check that your horse is contented.
Transportation
If you are uncomfortable about transporting your own horse hire a company to do this for you. Ask around amongst other horse owners, as recommendations are better than cold calling on the telephone. Horse transportation ranges from a single stall towed behind the family car to an expensive luxury lorry with all mod cons for horse and owners.
Cleanliness
Ensure that the stalls are disinfected before each journey and then afterwards as virus and infection will harm the horse.
Rugs
Keep rugs to a minimum to reduce the chances of overheating the horse. Use a rug suitable for the season, it should fit well and not slip off during transit. Have plenty of lead ropes and rugs ready in case of an accident. Horses should be fitted with a good- quality head collar and for those that are inclined to be skittish a poll guard would be ideal. These are foam pads that fit onto the headpiece or head collar and protect it from knocks and bumps. The legs should be protected with boots or bandages and the tail should also be protected with a guard or bandage. Make sure that the tail bandage is not too tight or this will cut off circulation.
You might also like...