Protect You and Your Pet Against Dogs on the Loose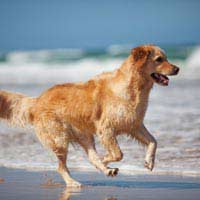 Meeting an off lead dog can sometimes be worrying if it is aggressive to you and your own dog. Knowing how to respond will prepare you if an incident occurs.
Assumptions
Sadly we live in an anti dog world where the assumption is that every dog is aggressive. If you adopt this attitude and strike out at every loose dog you meet it is you that is breaking the law. Furthermore advancing on a dog in an aggressive way will encourage any dog with a less than perfect temperament to possibly go on the defensive and retaliate. The majority of dogs are lovely happy animals with no thought of aggression. It is the few and their owners that make life hell for every other dog owning person.
Children and Dogs
Encourage your children not to be afraid of dogs. Additionally they should not attempt to touch or stroke dogs that are unknown to them whether they are on a lead or loose. Teach them to ask the owner if they may stroke the dog first and even then not to touch the face or ears.
Running Away
If a loose dog does run towards you or your dog in an aggressive fashion never be tempted to run away or scream. Running and high-pitched noises will only encourage an already excited dog. Waving your arms to attract help could also encourage the dog to bite your hands. Keep your arms by your side and your feet together so that your body forms a single block and there is less possibility of your body parts being bitten. If you are near a wall stand close to it so that the loose dog cannot run around you and get more excitable.
Your Dog
It is your dog that the loose dog is interested in and even if you pick up your dog the loose dog may still jump and possibly attack. Try to keep you own dog calm so that it doesn't yap or bark and encourage the strange dog. If you have a larger dog that is able to stand up to the larger dog or, if both dogs should start to fight do not intervene. Never try to pull your dog away in a fight or be tempted to put a foot or arm between the dogs to stop the fight, as it is you that will be bitten. In fact it would be likely for both dogs to turn on you instead.
Commands
As a loose dog gets closer to you stand your ground and in a low deep voice say in a commanding way 'down' or 'leave'. Even if the loose dog has never had training your authoritative voice will have an affect on his intentions and may well be enough to stop his approach. Furthermore, you may see the possible owner of the dog in the distance, quite often owners of aggressive dogs seem to let them loose in parks and open ground with no thought to the consequences. Call the owner, or indeed call for help but again in a deep commanding voice so as not to excite the loose dog.
Protection
If a dog does attack you and you are pulled to the ground attempt to cover your face with you arms and curl into a ball. If you ever watch jockeys this is the stance they take when falling during a race. When the body is curled tight there is less chance of being hurt.
Bylaws
Sadly many parks and open spaces are now banned to dogs, some allow dogs but they must be on lead. If you spot loose dogs in an area not designated for dogs then contact your local council and dog warden, as it could be you or your dog that are attacked by the next loose dog that is left to roam by an uncaring owner. Carry a mobile phone and have the dog warden's number stored along with emergency services in case of dog attacks.
You might also like...