Will Airlines, Train and Ferry Companies Take My Pet?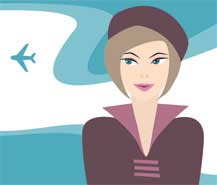 It is essential to know if the airline, train company or ferry operators will take your pet before setting off on your journey.
Travelling With You
Although your pet is travelling with you in your car do not expect to be allowed through any ferry port in the UK. Some ports do not accept pets and you will be disappointed if you expect to be accepted on arrival without first checking if pets are allowed through the port.
Plane
Not every airline takes animals as freight. Also, it is not possible to arrive at an airport with your pet on its lead and expect to book a seat for him – pets cannot travel with their owners but must be crated correctly and stored in the hold. The crates for pets have to be a specific size so that the animal can travel in comparative comfort and without distress.
Train
Pets can travel on trains but you must buy a ticket for them. They are not allowed on the seats and must be on a lead or in a cage. When booking sleeping berths remember to tell the booking agent that you have a pet that will be travelling with you.
Insurance
Check your pet insurance is up to date and covers travelling out of the country. Contact your insurer and get confirmation that you are covered for all eventualities in case your pet is lost or stolen whilst abroad.
Veterinary Cover
What are you going to do about finding treatment if you happen op be abroad and your pet is taken poorly? When you plan your holiday ask the hotel or place where you intend to stay that you need the name of a local vet in case of emergency. You're own vet may be able to help you find a reliable contact after all he will be helping you to get your pet ready for his passport application and is bound to have overseas contacts. If all else fails ask DEFRA if they have a list of vets in foreign towns. You will also need a vet for your pets tick injection before he comes home. The DEFRA helpline is: 08459 33 55 77.
Be On Time
If you are given a time to drop off your pet at the airport or to arrive at the ferry terminal do not be late. Freight has to be stored on board planes before the passengers' board their flight and they will not wait for one small animal to arrive. When travelling by ferry it may be that you have an op-en ticket that will allow you through at any time of the day. However, with a pet on board it is best to allow time before the ferry arrives so that the pet can be watered and exercised before the trip.
If In Doubt
Is your pet of a nervous disposition? Do you think he would be upset about a long flight stored in the hold of a plane? Would he be upset to travel in your care for many hours? Would he be sea sick or wary of strangers? Do not contemplate sedating your pet as he is liable to be bruised an injured when shaken around in the crate as he cannot fully control himself in his drug induced state. If you feel that your pet would not enjoy his journey with you leave him at home or in a kennel. It is much kinder to think of your pet's comfort than your insistence that he join you for the family holiday.
You might also like...
Good evening, I have to bring my chihuahua from Italy to London, but the travel agency in Italy told me that is impossible to flight with the dog..is this true? The only way is take the ferry? can someone please tell me something? Is really urgent. thank you so much.
Arianna
- 5-Jun-13 @ 7:31 PM