Emergency Cleaning While on Holiday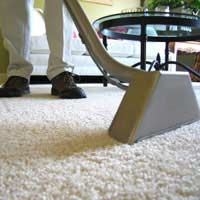 Taking your pet on your family holiday is not only fun for the family and the pet but can save on boarding fees. However, how do you ensure that your holiday cottage or hotel room is not damaged by your pet?
Check First
When booking your holiday accommodation make sure that pets are allowed. Try to get permission in writing just in case the management changes by the time you take your vacation. It would be awful to have to turn round and go home if Fido or Whiskers was not allowed entry to the property. Quite often there will be a charge for pets to stay in the cottage or hotel room although they will not be catered for.
House Trained
Do not even consider taking your pet away on holiday with you if it is not house trained. Why would your pet be good in a strange house when it still dirties yours? If an animal uses a litter tray check with the hirer that you are allowed to use one in their property.
Beds and Sofas
Even if your pet never jumps onto a bed at home protect them by throwing a sheet over the bed covers – one of your own! Also carry an extra sheet to cover the sofa as stray pet hairs get everywhere!
Vacuum Cleaners
Vacuum cleaners are notoriously ill tempered things in holiday rentals, they never seem to suck properly and quite often kick out more dust. Pack and hand held hair remover in your luggage, either the velvety Velcro variety or the ones that have replaceable sticky paper to remove lint and fluff from clothing. One of these will remove hairs very quickly from fabric chairs and settees. If you forget to carry such an item a damp cloth can work as well or even a wet hand can rub off hair in an emergency.
Glass and Windows
It is likely that there will be nose marks on glass doors and floor height cupboards. A quick wipe with a damp cloth will only smear the glass so a small container of glass cleaner is another item to pack along with a roll of kitchen paper.
Carpets
If a pet is going to have an accident it is likely to be on the carpet! Wet wipes are excellent items to have with you as they remove most marks from clothing and carpets with ease. After picking up any offensive mess rub the area with a wet wipe or two. For more stubborn stains an aerosol can of foam cleaner will lift the rest of the marks.
Sweet Smelling
It is likely that we get used to the smell of our pets but whoever rents your holiday home after you do not want the odour of damp dog to greet them. Before leaving your rooms spray the carpet and furnishings with one of the many sprays on the market to give the rooms a refreshing scent. Leave open a window or two for fresh air and perhaps a bunch of flowers or pot pourri in a bowl on the table. Why not leave some of your cleaning products in the holiday let – who knows if you return next year other holidaymakers would have replenished them and have been grateful for your thoughtfulness.
Be Good
Try to do your best to keep your holiday let clean and uncontaminated by pets. If you fail you could find yourself barred from future use of the property and other pet owners could also face bans because of your tardiness.
You might also like...