Ten Point Checklist for Travelling With a Pet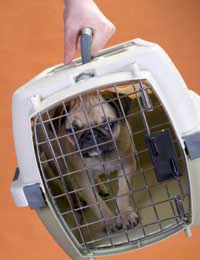 When travelling with a dog in your car remembering a few important points can aid the journey and keep you and your dog safe.
1. Exercise
Ensure your dog has had a walk before any long car journey. More importantly make sure he has been to toilet so you do not have any accidents on route. Stop every hour to allow your pet to stretch his legs and 'do his business.' Always pick up after your dog.
2. Dog Cleanliness
Groom your dog well before a long car journey otherwise dog odours will invade your car and you and the other passengers will smell like dogs. Wash his face and check the rear end for any debris as you do not need this in your vehicle.
3. Cages
Some dogs sleep in cages or crates and feel secure. This may be the way for your dog to travel in your car. Anchor the cage to the car so that it cannot move especially in an accident. There should be two safety routes from the cage just in case your vehicle is involved in a shunt.
4. Seat Belts
Seat belts for dogs are a very common sight these days. Available in pet shops, pet stores and online as well as car accessory shops they clip to the rear seat belt fastening so your dog is not able to move far or be catapulted forward in an accident. The seat belts resemble a harness that fits around the chest area; some have a double use with clips for dog leads.
5. Identification
Every dog must wear a collar and identity tag by law. Your dog's name and your telephone number are adequate. Better still a mobile telephone number so that you are always contactable. Micro chips are another way to identify a dog but they are not that reliable and it also necessitates police and other services having a scanner and being bothered to use it correctly. Join an association such as Pet Log for further security for your poet.
6. Food and Water
Do not feed or water a dog before a journey as accidents can happen. Although iced water may seem a nice option your dog may develop gastric torsion and die if he drinks too much water in one sitting.
7. Hot Weather
Dogs and hot cars are words that seem to go together during summer months. The answer is to keep your dog at home unless you really need to take him out with you. Never leave the animal alone in the car with the window slightly open – it will not give enough air to your dog and he will very quickly overheat and die.
8. Emergency Supplies
When travelling with a dog always carry extra bags for picking up after him along with a spare dog lead. Some dog food and water will also be handy if you break down or need to stay out longer than normal.
9. First Aid Kit
First aid kits for dogs are available from pet shops and should be kept in the cart along with the human version. One never knows when you need to help your own dog in an emergency or if another dog is injured in an accident. Take care when approaching any injured dog. Use the spare lead to muzzle the animal as it will snap out if in pain.
10. Contact Numbers
One of the most important things to carry when away from home is a card with your contact numbers. Many people who travel to dog events around the country carry a card stating that they have 'dogs at home' along with a number to call of a friend or family member who can gain access to them. A number for a vet is another good idea if you are staying away from home for any length of time
A little forward planning when travelling with a pet can make the journey run smoothly.
You might also like...