UK Dog Laws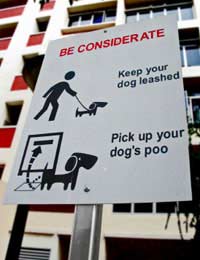 Even an honest dog owner is capable of breaking the laws with the plethora of rules that now govern the ownership of dogs. The laws in one council area can differ to those of a neighbouring area. It is a dog owner's job to ensure that they know how to obey the laws concerning their beloved animals.
Identification
Every dog owner should make a habit of ensuring that their pet is wearing it's collar before leaving home for his daily walk. Not only that the collar should have the identity of the animal either engraved on the collar or on a tag that is securely attached. Details should include the address and telephone number of the owner. Never give information that would inform a burglar that you are out walking your dog and your home is empty and could possibly be broken into.
Holidays
When staying away from home on your holidays change the tag so that in the unfortunate chance that your dog is lost the finder will be able to locate you.
Micro Chip
Although it is not yet a law that all dogs have to be micro chipped it is well worth having this done as in the event that your dog is stolen or lost it will be easy for the finder to have him identified and returned to you. Also, some breeds look so similar that there could be a dispute over ownership and your details on a micro chip will go some way to proving ownership.
Pick It Up
Always pick up after your dog, failure to do so could find you up to £1,000 poorer. Recycle plastic carrier bags from the supermarket or if you prefer something scented in your pocket purchase a box of perfumed nappy sacks, they will last a long time and come with handles that tie neatly ready for disposal. You can also purchase bags designed for the disposal of dog waste but they are normally more expensive than other types of bags and tend to have a strong disinfectant odour which is not always a pleasant thing to have in the car or handbag.
Dog Bins
In areas where the local council expect you to pick up after your dog make sure that they supply bins for this purpose. With the amount of money being charged to dog owners it is only fair that some of it is invested in the safe disposal of dog waste. Carry an extra plastic bag with you in case there is not a waste bin to deposit your dog's faeces. It may mean that you have to carry the offending item home with you. Once home and hands washed write a letter to your council pointing out their error in not supplying suitable bins.
Countryside
When walking in the countryside do not let your dog off lead in fields where he can chase sheep and cattle. Kit may seem like fun to see Rover running amongst the sheep but the farmer is allowed by law to shoot any dog seen worrying his animals without having to warn you first.
Parks
Do not think that you are allowed to take your dog into any park let alone allow him to exercise off lead. Many council's are now invoking the dog control order which is making life difficult for owners to find a suitable place to let their dog run free. This has been brought about by the minority of dog owners who are not taking care of their dogs and let them roam and foul the streets without care of the consequences.
Stray
If your dog should stray from home it is no longer the job of the police to take in the dog until the owner is found. Instead the job has been passed by the government to the local council and its dog warden service. Unfortunately most local councils only employ one warden and the service is only available from nine to five, Monday to Fridays. If a poor dog is found outside these times the finders are being advised to either look after the dog until the warden can be contacted or to take it themselves to a kennel establishment that takes in stray dogs. This situation has been met with horror by dog lovers and there are plans afoot to force the government to change this rule.
You might also like...
hi i want to import a puppy from cleveland america to uk it will be eight weeks at time of travel what do i need and is it possible thankyou