Pet Courier Scams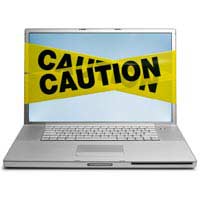 We've recently been on the receiving end of a pet courier scam using our website' s name to dupe people into paying for something that doesn't exist. Please note that we do not provide any services or products - just the great advice you see on this website. Here are some more details about the scam and other pet courier scams to be aware of.
How could you not be moved by the plight of the puppy that just happens to be the exact same breed that you're looking for? You make contact with the person concerned and after they've asked you some questions about how you intend to look after their valuable pet, they decide that yes, you're the perfect choice of owner, and all that remains to be arranged is the transporting of the pet to where you live.
But wait – it seems they are a fair distance away from you. So they'll have to sort out pet transportation, and that's not going to be cheap. Some cheeky fraudsters have been cashing in on the good name of www.petsanddtravel.co.uk to try and scam honest people out of their money, in an elaborate hoax that tries to part potential pet owners with cash for the costs of transporting the animals from one side of the country to the other. Concerned members of the public have been in contact with petsandtravel.co.uk, to find out whether requests for large sums of money are genuine.
It goes without saying that they are not. Petsandtravel.co.uk has never sold products to the public, and has absolutely nothing whatsoever to do with the scammers who are purporting to sell or trade pets.
Pet Scam Case Studies
Unbelievably, one potential pet owner was told that the reason he could only pay for his German Shepherd dog, (which was originally in Liverpool but had conveniently just been relocated to Northern Ireland), to be transported was...
"due to the high rate of fraud going on in the UK all their UK based account are under auditing and reconstruction so all their payment are been forwarded to their head quarter Cameroon."(original grammatical errors included for reference here.)
Naturally, when asked to forward money to a Western union account, most people will be highly suspicious, but the fraudster continued, "you just have to trust me and make a payment of hundred pounds tomorrow."
Thankfully, this astute consumer saw through the scam, but the side-effect of getting into correspondence with scammers in the first place is that he now gets bombarded with spam emails telling him that he's won prizes and just has to send cash to be awarded them.
Another excited pet owner was pleased to find that someone had socialised beagles available to be adopted, allegedly because her mother (who lived in the Isle of Man) had recently died and the scammer was unable to take them in. The lady in question chatted over email with the pet scammer and was asked several questions about her own suitability as a pet owner, before being asked to send £200 "to include delivery". In a later email the £200 was described as simply being the courier fee. The intended victim of the scam smelled a rat when the emails started asking for money for a courier firm called Pets and Travel, and gave the www.petsandtravel.co.uk website. She says,
" I believe now the whole name, everything was made up. I got suspicious as I felt she went a little too far with her story, plus her grammar sounded foreign. I then went onto the website for Pets and Travel, as I am a natural cynic, to check if it was correct and obviously found it wasn't."
What to look Out For with Pet Scammers
Consumer Direct advise that there are no pending investigations into this type of activity going on at the moment, and in fact it would be difficult to investigate anyway as the perpetrators of this type of pet scam are clearly based abroad and using fake email addresses. The adverts appear in several websites and have also been reported in USA, Australia and New Zealand and elsewhere.
Our Advice
Be wary of:
Sob stories about why the animals are being given away
Locations that involve a long journey for the pet – especially if they've conveniently 'just moved'.
Requests to send money for transporting the pet using Western Union (especially to an account in Cameroon)
Sample email:
Here is an example of the email you might receive following an initial enquiry:
"We are very happy to read from you so soon,And i have just attached some of the pics and we are sure you are going to loves and spoil her with love ,cuddle , attention and provide her with all her needs . We need Her to go into a lovely and caring and a forever home. Firstly let me tell you about her .She is called Louisa . She is veterinary checked and vaccinated and have all health records till date and all papers . So we are giving her to a good home and for ever home...
Since you guys are not so close to us, we shall use the Pet Delivery Carrier and they will get the puppy delivered at your home address that you will provide to us. As soon as we have the details, we shall prepare the change of ownership papers before we do the delivery registration with the Carrier . Do get back to us with the details so we can prepare the change of ownership papers and do the delivery registration with the Courier. You will have to pay just £200 and that is directly to the Courier company before delivery as the agency will need the money to process all the delivery documents before transportation of the puppy okay and also send all the relevant papers work via the Courier service."
You might also like...
Similar thing happened with me regarding a bichon frise on Pets4Homes. So relieved I googled the transport company. Also from Dean Cooper. The email I got had no grammar errors and it seems like this are getting better at this. Here is the email I got: Good morning Cynthia, Thank you very much for answering my questions. She's a joy of a puppy who likes playing, walks, cuddles, puppy kisses and anything else you would like to do. She is being raised with children who play with her daily. I am actually rehoming Princess because she was being looked after by my sister Alison who is very ill right now as we speak and she cannot take care of her anymore. I am also very committed to work and I can't take her to work because it is not allowed. I cannot give her the love and attention she deserves, so I thought it wiser to look for a loving home rather than keeping her lonely. We are actually located in Dalkey Sound, Green Rd,Dalkey, Co. Dublin, Ireland, and I will have to deliver her over to you through a professional pet delivery company. The total for her and delivery will be £700 and she will be delivered directly to your home address so you will not have to go to the airport. So, I am going to do all the shipping and delivery arrangements with the airfreight company and hand over Princess to them to be shipped and delivered to you. We have a very good pet delivery company here known as Real Time Courier Logistics. We have known them for many years. Real Time Courier Logistics is a very reliable and professional pet delivery company with many years of experience in pet delivery. They have a very good reputation and also professional workers that handle puppy delivery with care and we trust them. Princess will be delivered sound and healthy. The total cost will be £700 which you will pay to me or to the transport company to arrange delivery with. How soon will you want her to come over? Waiting to read from you. Kind regards, Dean & Cheryl.
Omg they seemed so genuine apart from the price.Sent a video of the Puppies and even sent photos of their passports. I was so tempted until I googled their names.
Catmac
- 12-Oct-20 @ 6:03 PM
African Grey offered on Facebook just moved to Scotland KW12 6XF and Landlord doesn't want pets needs to be rehomed ASAP.. Arranged courier through Easy Pet Move for £200 then E-mail asking bank transfer payment only. At first looked genuine however called the number on genuine website and they were no help in confirming if booking was made through them. The guy I spoke to could hardly speak English. I had to investigate myself. Website was fake. and person on facebook wouldn't answer video chat
Nev
- 11-Oct-20 @ 4:28 PM
Same guy as above but with a changed name ... thanks for writing back and rightly answering my questions. I have reattached the pic's, hope you will like them. I forgot to inform you in my previous email I am currently relocated 21 Castle Park Rd, Sandycove, Dublin, A96 P028, Ireland. I just found out that my location may be too far but I can arrange for him to be transported and deliver you. To have Riley transported and delivered over to you will cost £650 Including home delivery and is the only fee you will be paying. Just wanted to let you know that the more reason why I am giving Riley away is because he is own and taken care of by my sister as she has become really ill so he is in my care until we can find a suitable home for him. I absolutely love him though but I do however work a lot so there's no time to give him the attention he deserves, but I am more than willing to keep him if the right home doesn't come along. Kind regards, Davies & Suzanne
amber
- 8-Oct-20 @ 7:39 PM
As below the exact same thing has happened to me with an advertisement on Pets4homes for a labradoodle. Messages signed off by Dean Cooper and Cheryl Please beware x
*** PLEASE BE AWARE OF 'SELLERS' DEAN COOPER AND LIANNE WILSON *** Please be aware of 'sellers' called Lianne Wilson and Dean Cooper. Saw a Maltipoo puppy advertised on Pets4Homes for only £600. We emailed the person on the advertisement (Lianne) to enquire and also ask why the puppy was significantly less than others. I looked at Pets4Homes later that evening and saw that the advert had been removed. The next morning, I got an email from Dean. This was not a reply to my email, and instead looked like an email that is copy and pasted to several people. The email was full of poor English and grammatical errors. Alarm bells did start ring, but I continued, making sure not to provide too much information. Exactly the same as to what I have read on here, they ask you a few questions and then state that we would be perfect. In the second email from Dean Cooper, he then provides more information: his sister is extremely ill and can't look after the dog, he works and doesn't have time and that the puppy is now in Ireland (ADDRESS PROVIDED: Dalkey Sound, Green Rd, Dalkey, Co. Dublin, Ireland). Because of this, they would have to use a courier service to get the puppy to us. They said the one they use is Real Time Courier Logistics. Looked this up and a lot of websites relating to scams appeared in the top search results. To try and get more information to provide to others, I messaged back stating that we were a bit sceptical and that we would not part with any money until the puppy was with us and we knew he was ok. I also stated that searching their courier service brought up lots of websites advising scam. My message was read and I never received a response. Please be careful - IF SOMETHING IS TOO GOOD TO BE TRUE, IT PROBABLY IS.
WATCH OUT! Just came across advert form Colin Frederic . Nearly fell for it . Same story as other people received - thanks for writing back and rightly answering my questions. I have reattached the pic's, hope you will like them. I forgot to inform you in my previous email I am currently relocated 21 Castle Park Rd, Sandycove, Dublin, A96 P028, Ireland. I just found out that my location may be too far but I can arrange for him to be transported and deliver you. To have Hugo transported and delivered over to you will cost £700 Including home delivery and is the only fee you will be paying. Just wanted to let you know that the more reason why I am giving Hugo away is because he is own and taken care of by my sister as she has become really ill so he is in my care until we can find a suitable home for him. I absolutely love him though but I do however work a lot so there's no time to give him the attention he deserves, but I am more than willing to keep him if the right home doesn't come along. Kind regards, Colin & Linda
Mags
- 26-Sep-20 @ 4:43 PM
Just nearly got scammed by these two! So glad I looked on google and this page came up. They were advertising miniature schnazeur 15 weeks old called Mika and then said they were in Ireland and even gave me this address 21 Castle Park Rd, Sandycove, Dublin, A96 P028
Colin frederick and
- 24-Sep-20 @ 8:22 PM
"Colin Frederick" is at it again this time advertising on Pets4Homes - Miniature Schnauzer £600. The ad used a bogus name of "Alison" selling her 15 week female MS. The sob story looked like a rehoming situation but once "Colin" wrote to me directly I quickly saw that in all likelihood this was a dodgy Nigerian trying his luck to extort money from naive souls as his wording and grammar at best was equivalent to that of a 2nd grader with Dyslexia! Watch out..
Lolls
- 24-Sep-20 @ 7:40 PM
I nearly fell for a scam on a border terrier called Harry from Colin Frederick and Rose Thurston I realised it was a scam due to the use of English ( ZIP code) , and that they were going to transport the dog when I live near enough to view the dog in person.I googled his name and came across these posts. Thank you.
colin Frederick and josefina Franklin advertised a puppy in Kent suddenly in Dublin was his sisters but she has become ill and unable to look after puppy beautiful pictures sent over saying money not important when I said cash on deliveryonly a good home was important when I question the travel arrangements and suggest I could make my own suddenly ignored after message is read suspicious that this was a scam used funny term for example zip code when asking for postcode repeatedly said only one fee including transportation
gingercat
- 11-Sep-20 @ 11:28 AM
I am SOOOO GLAD i googled SIMON ALEXANDER DOWLING AND MICHELLE MARIA DOWLING. Thank you guys for the warning!
Squincy
- 9-Sep-20 @ 8:17 PM
Watch for a Colin Frederick in London selling a bogus toy poodle suddenly the animal is in Dublin!
Mouse
- 8-Sep-20 @ 1:53 PM
Simon Alexander & Michelle Maria Dowling attempted to scam me with red setter puppies, Twohig Frederick also tried with an older sprinter spaniel. Seem to be all over the place at the moment.
Santalou
- 29-Aug-20 @ 11:44 PM
I was just emailing these two today to sort out getting a puppy. However I wasn't happy at first I got loads of info and very polite then all of a sudden it turned to like a quick text. Asking if I'm sending money now unfortunately they have all my details but something made me think twice so I googled her name and found this luckily I didn't send payment
Omg
- 25-Aug-20 @ 3:46 PM
Also scanned by these people. They are scum.
Joylove
- 9-Aug-20 @ 11:51 AM
BEWARE ISLE OF MAN SELLERS OF AFGHAN HOUNDS THEY CALL THEMSELVES SIMON ALEXANDER DOWLING AND MICHELLE MARIA DOWLING...when I asked for a photo of the exact puppy they would be sending they could not provide it but I had a long email about its care, food, love it would need etc...the puppy certificates could not be sent as the "vet was a long way away" and then I was asked to pay all the money to their son's account which was a bogus foreign transfer account so the money disappears without trace....,thank goodness for the internet and search facilities...I inspected the photos of the "dogs in their garden" and googled their garden...no way !!!I suspect its a bogus residential address they are using of some unsuspecting Isle of Man resident... Ot
OTTO
- 29-Jul-20 @ 1:11 PM
think I've been scamed by the email marky ban saying she has Staffordshire bull terriers for sale in Kirkwall Scotland like a fool i paid half the amount then the courier then got in touch and wanted £1235 to insure the pup while in storage and transit the penny dropped then the scumbags should be bought to justice
jenks
- 23-Jul-20 @ 2:41 PM
Just had an email conversation with Miranda Spencer and Graeme Biddle about the golden retriever puppies they are selling, it was pretty much identical to the ones mentioned below.The suggestions they made rang alarm bells, so searched their names and found this information.Thank you for confirming my initial concerns were well founded,is there anyone I should report this to?
Lucky escape
- 15-Jul-20 @ 10:23 PM
An interesting page, I have just been scammed by Miranda Spencer too, 740!! Over golden retrievers, reported to fraud department. Realised when they wanted an other1,250 for insurance that it was a scam sadly. No puppy for us.
Debra79
- 15-Jul-20 @ 1:09 PM
nearly got scammed by miranda spencer over some german shepard pups on isle of man ...sent me many photos and details of how to care etc etc.....also courier service next day with vets .........lying scum dont touch these inbreds
cheesedevil
- 12-Jul-20 @ 6:54 PM
If anyone wants her name its Rinna cratinno on Facebook saying she has no time to care for the pups sent me pics they have said the teapot yorkie are a boy and girl called Rex they want to transport the pups I smelled a rat hence it being in the surname when I asked for a video call to view the pups they declined. I said I would travel 8 hrs to collect them said they would send documents etc but needed money 1st byvtmr morning. I know I'm blond but I'm certainly not stupid. Please anyone dont pay for pet couriers they are frauds I bet there has been some unlucky people out there that has falled for this. My condolences to you.
bernie
- 11-Jul-20 @ 11:56 PM
Hi I'm in contact with s women called Rinna C on Facebook from the isle of man with 2 teacup yorkie. Wanted £500 on iTunes card scammers I'm thinking I have the whole conversation if you wish to view it they know what there are doing to these poor people that fall for these Nigerians as looked into his friends and I'm guessing that's what the nationality is.
bernie
- 11-Jul-20 @ 11:48 PM
We are currently looking for a Golden Retriever so I got my daughter to do some of the leg work, she came across a Miranda Spencer in Isle of Man with some great pictures of a litter. Should we abort?!
DeeMax
- 9-Jul-20 @ 9:08 PM
Miranda Spencer and Graeme Biddle the name on my email - I asked to see a copy of the 5 generation pedigree and not had a reply back, again the English slightly off and referring to a discount card for the courier.
jj2020
- 9-Jul-20 @ 5:01 PM
Beware buyers she is using the name miranda Spencer
Ajg1
- 8-Jul-20 @ 2:25 PM
She is using the name miranda Smith beware buyers
Ajg1
- 8-Jul-20 @ 2:23 PM
Hi, I have almost been scammed by Pamela Wendy Conti. I have been doing some digging and the passport she provides (including DOB) proves a match on companies house as a director of Conti Enterprises. The registered address for the this company is the address of Contis Fish and Chip Shop Tonypandy. The lady in the photo posted by the chip shop is the same lady on the passport sent to me during the scam. I have messaged the chippy to see if they are aware of the involvement and if this proves to be the 'home' of the scam I intend to boycott the chippy and hopefully get a report for fraud against them. They make the scam sound so believable and it's just so inconvenient that they are basis in Isle of Man but the solution of the Courier service that the husband had discount on is too good to be true! Please don't fall for this nasty scam! If you have been scammed by them, it may be worth contacting the chippy as it is either the scammer who owns the chippy or they will be very inclined to help with the huge case of identity theft carried out against them!
Geo
- 22-Jun-20 @ 9:27 AM
Now they've moved on to Pocket beagles, exact same email as everyone mentioned above! Has anyone reported them?
All the above and add Liam and Miranda avoid
Scam buster
- 20-Jun-20 @ 5:17 PM