Pet Courier Scams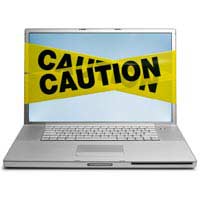 We've recently been on the receiving end of a pet courier scam using our website' s name to dupe people into paying for something that doesn't exist. Please note that we do not provide any services or products - just the great advice you see on this website. Here are some more details about the scam and other pet courier scams to be aware of.
How could you not be moved by the plight of the puppy that just happens to be the exact same breed that you're looking for? You make contact with the person concerned and after they've asked you some questions about how you intend to look after their valuable pet, they decide that yes, you're the perfect choice of owner, and all that remains to be arranged is the transporting of the pet to where you live.
But wait – it seems they are a fair distance away from you. So they'll have to sort out pet transportation, and that's not going to be cheap. Some cheeky fraudsters have been cashing in on the good name of www.petsanddtravel.co.uk to try and scam honest people out of their money, in an elaborate hoax that tries to part potential pet owners with cash for the costs of transporting the animals from one side of the country to the other. Concerned members of the public have been in contact with petsandtravel.co.uk, to find out whether requests for large sums of money are genuine.
It goes without saying that they are not. Petsandtravel.co.uk has never sold products to the public, and has absolutely nothing whatsoever to do with the scammers who are purporting to sell or trade pets.
Pet Scam Case Studies
Unbelievably, one potential pet owner was told that the reason he could only pay for his German Shepherd dog, (which was originally in Liverpool but had conveniently just been relocated to Northern Ireland), to be transported was...
"due to the high rate of fraud going on in the UK all their UK based account are under auditing and reconstruction so all their payment are been forwarded to their head quarter Cameroon."(original grammatical errors included for reference here.)
Naturally, when asked to forward money to a Western union account, most people will be highly suspicious, but the fraudster continued, "you just have to trust me and make a payment of hundred pounds tomorrow."
Thankfully, this astute consumer saw through the scam, but the side-effect of getting into correspondence with scammers in the first place is that he now gets bombarded with spam emails telling him that he's won prizes and just has to send cash to be awarded them.
Another excited pet owner was pleased to find that someone had socialised beagles available to be adopted, allegedly because her mother (who lived in the Isle of Man) had recently died and the scammer was unable to take them in. The lady in question chatted over email with the pet scammer and was asked several questions about her own suitability as a pet owner, before being asked to send £200 "to include delivery". In a later email the £200 was described as simply being the courier fee. The intended victim of the scam smelled a rat when the emails started asking for money for a courier firm called Pets and Travel, and gave the www.petsandtravel.co.uk website. She says,
" I believe now the whole name, everything was made up. I got suspicious as I felt she went a little too far with her story, plus her grammar sounded foreign. I then went onto the website for Pets and Travel, as I am a natural cynic, to check if it was correct and obviously found it wasn't."
What to look Out For with Pet Scammers
Consumer Direct advise that there are no pending investigations into this type of activity going on at the moment, and in fact it would be difficult to investigate anyway as the perpetrators of this type of pet scam are clearly based abroad and using fake email addresses. The adverts appear in several websites and have also been reported in USA, Australia and New Zealand and elsewhere.
Our Advice
Be wary of:
Sob stories about why the animals are being given away
Locations that involve a long journey for the pet – especially if they've conveniently 'just moved'.
Requests to send money for transporting the pet using Western Union (especially to an account in Cameroon)
Sample email:
Here is an example of the email you might receive following an initial enquiry:
"We are very happy to read from you so soon,And i have just attached some of the pics and we are sure you are going to loves and spoil her with love ,cuddle , attention and provide her with all her needs . We need Her to go into a lovely and caring and a forever home. Firstly let me tell you about her .She is called Louisa . She is veterinary checked and vaccinated and have all health records till date and all papers . So we are giving her to a good home and for ever home...
Since you guys are not so close to us, we shall use the Pet Delivery Carrier and they will get the puppy delivered at your home address that you will provide to us. As soon as we have the details, we shall prepare the change of ownership papers before we do the delivery registration with the Carrier . Do get back to us with the details so we can prepare the change of ownership papers and do the delivery registration with the Courier. You will have to pay just £200 and that is directly to the Courier company before delivery as the agency will need the money to process all the delivery documents before transportation of the puppy okay and also send all the relevant papers work via the Courier service."
You might also like...
So glad I checked on here as just nearly got scammed off Pamela Wendy Conti from Isle of Man for a Rottweiler puppy off K9 pets for sale site how are these people still allowed to advertise puppies for sale on site when their known scammers I'm fuming as iv been looking for ages to find a pup then when I get my hopes up it's a scam
Lainey
- 4-Jun-20 @ 12:45 PM
Hi anyone been scammed by Amanda Gonzales off loot, then by the so called courier which is called Free way pets transport or international paws??? They've had over £500 off me!
Rach
- 2-Jun-20 @ 8:05 PM
In answer to the couple in Isle of Man I have almost paid over 600 pounds for a puppy, Paypal originally then suddenly bank transfer, then her son's name.All too much information but no trusted bank account.Thankfully spotted their mistake and stopped contact.Name of Pamela Wendy Conti and Billy Roger.Done research and found this forum.These are definitely scammers.
jannor
- 31-May-20 @ 11:33 PM
I've just read one of the comments on Pamela Wendy and Billy Rodgers. I've just had contact from her regarding Rottweiler puppy's. Saying how they will send the pup via courier as it's far to travel. I am really starting to think it is a scam especially after seeing someone else post saying they're being offered golden retriever pups.. what are the chances that they have two different breeds of pups ready at the same time for two complete strangers that are looking for pups. I've also searched for Pam and billy and have had lots of scam alerts come through on the pair and have allegedly scammed a lot of money from a lot of people. I have responded to her emails and currently waiting on a response back. We shall see what they have to say regarding all the questions I have asked them about the "courier services" and how payment will work...
Nell
- 31-May-20 @ 8:32 PM
Ive actually been in touch with someone about a golden retriever pup, and have just got the courier email thought it was fishy so looked up the couriers, they said they had a loyalty card which no courier advertises. The names are Pamela Wendy and Billy Rodger, anyone heard of these before?
May
- 29-May-20 @ 7:25 AM
Sadly folks this type of scam is common. They advertise puppies with fake pictures harvested from websites etc. They will appear diligent - asking them correct questions that responsible owners will ask, and saying they will be happy to let you see Mum and Dad and meet them. All of a sudden their accessible location will become Orkney, Isle of Man, etc, places where you are unlikely to be able to get to. They will offer a courier service to get the dog to you, you pay, end of story, if you fall for it you'll never see your money again - sorry folks. Easy way to avoid these scams is to always say you're happy to travel to them, and all of a sudden they will stop replying as they know they've not got you on the hook.
Chris
- 15-May-20 @ 1:13 PM
yesterday we let our guard down unfortunately like others I have read once the horse had bolted, the person was first in Leicester then were in Orkney Scotland, we agreed to the shipping which we was given a price the we would need to pay for pup, paper,courier etc. once money was stupidly transferred had no contact, then we tried to ring different numbers got through to foreign person he told us ring back later, which we didn't. They later email us saying the courier would be sort today for delivery. We thought maybe they were genuine after all only to get another email saying that they need more money for the pods for pup to travel in.Sorry but once bitten twice shy.the email was stating Andy young and the transfer was to Vohla Lazar to a prepay technologies account. Theworst thing is we don't usually do this kinda of stuff and we tell everyone else to be careful, guess we will have to practise what we preach. PLEASE BECAREFUL PEOPLE
shrek
- 11-May-20 @ 12:06 PM
I found a post give away a puppy from loot . After the inquiry, the other party said he was in the isle of man, and need delivery the puppy to me.This does not match the displayed address.Fortunately, now I saw your page, I believe this is also a scam.
Eva
- 28-Apr-20 @ 1:28 PM
Jay Omar, luliia Cherks, another fraud from Orkney Scotland. In begging said they are based in Kensington and now in Scotland how that's convenient??
Jack
- 7-Apr-20 @ 4:52 PM
Have had the delightful experience of dealing with Samira Morgen today who apparently has 4 labrador puppies, advert stated Hounslow but when enquiring they advised the puppies were in Orkney Scotland. When said its too far away we were told that they can organise a pet courier. Alarm bells rang so asked for the picture of the parents. I received a picture with 2 chocolate labs in it. The advert has mum as a black lab. I then googled and found this site.
Vicky Paterson
- 10-Feb-20 @ 7:45 PM
Hi has anyone ever come across john mobley has pup French bulldogs was in liverpool but moved to Belgium
Isla lawrence
- 22-Jan-20 @ 4:01 PM
Has anybody had dealings with a Samira Morgen regarding English Bull Terrier puppies original post stating location as London but being informed that pups supposedly now in Isle of man?
Zac
- 11-Jan-20 @ 2:33 PM
I was approached by a someone today on Facebook saying they had a dalmatian puppies that needed a new home they then went on to give me a sob story about her husband but the account was a males account I thought to go alone then they said it was so far she could transport them with health checks and vaccinations she will pay 100 I will pay 150 then sent me a photo saying to go post office and transfer money to a payee but it was being sent to Cameroon I told her I knew it was a scam and will report her
Jasmine Gower
- 7-Jan-20 @ 5:36 PM
This guy has just tried to con me he is advertising blue SBT for 300. Plus 50 delivery old saying is true IF ITS TO GOOD BE TRUE. Then in this case its an absolute scamBEWARESTUART BENSON on the free ads online
Loulou
- 10-Oct-19 @ 9:02 AM
I too replied to ad about 11 week old shih tzu for sale for 200 pound contacted Stuart Benson and was told I needed to pay courier the 250 which 50 was the fee for delivery I got sent email this morning from a fake courier service requesting the payment they wanted me to use western union and send the money to Mexico I kept receiving calls from them so sent Stuart Benson message telling him I knew this was a scam and I would not be paying any money the puppies were advertised on freeads the ad said Croydon then he changed and said he had moved to orkney please don't fall for this scam they're fraudsters
Nikki c
- 19-Sep-19 @ 7:04 PM
I believe my daughter has likely been talking to the same scammer today via email. Cavachon pups originally for sale in Oxford are suddenly in Orkney, less than 24 hours after ad appeared on "preloved" website. It seems a different man's name is being used but the story ties in. I'm glad I researched and found this page. Derrick Scot / Scot Derrick will not be getting my hard earned money, thankfully.
Rae
- 26-Aug-19 @ 3:43 PM
I too was nearly scammed by Stuart Benson. He was offering 11 week old Shihtzu puppies for £300 in Portsmouth - when contacted he then said he had moved to the Orkney's and the puppy would have to be transported by Pet Courier. Payment had to be made by Western Union transfer to Mexico - that's when the first alarm bell rang. I then asked for the date of birth of the puppy which he gave me (May or may not be the correct one) and the Dam's name which he would not give me - second alarm bell. The email from the so called Orkney Global Pet Carriers was very suspicious and had a non existent phone number for their contact - another alarm bell!Finally I said I would collect the puppy myself but was told that I could not - so that's when I cancelled the transaction.
Champers
- 19-Aug-19 @ 10:33 AM
I was almost scammed by a Stuart Benson who was selling 11week old yorkie pups, advert said he stayed in motherwell and when I asked if I could come and collect the pup myself he suddenly moved to Orkney and that he had to deliver by pet courier, this is when I realised I was being scammed. I kept the conversation going to see what happened and sure enough he wanted me to transfer cash through western union and also email from the carrier was highly suspect as well as it said there would be extra charges to pay! safe to say I will not be paying.
weemaw21
- 14-Aug-19 @ 9:18 AM
Paid 260 for a pure breed white male Siberian husky pup they are now refusing to give my money back are constantly ignoring phone calls and blatantly lying saying they have not received any money
Chuck
- 19-Jun-19 @ 12:14 PM
A female supposedly named Claire Queenta on Facebook looking for a 'forever' home for 11 week old pup as she has to take her sick aunt abroad for treatment. £260 for dog courier from Plymouth to Glasgow area. Smelled a rat immediately. Be on the look out!
Paulo
- 17-May-19 @ 9:44 PM
I paid 500 for a blue staff pup yesterday from sellin site friday-ad they was emailing me I fort it was all ok then 7.30pm they emailed me saying I needed to pay 590 more because it was coming from Scotland I said don't think so but they was still texting made out they payed the 590 my and my 2 children was waiting all day they said marley would be with me by 5 today but they blocked my number so I couldn't message them no more people need to no about these scammers somethink needs to be done
Char
- 14-May-19 @ 8:21 PM
Been scammed too!! Told me I could have the dog, and it needed a loving home after her falling pregnant and that her husband works away and she has no time or he has no time to look after the dog !! Said she would send it through carrier and it never happened, the dog was a 12 week pug puppy.
Jt1998
- 21-Apr-19 @ 4:10 PM
I've just been interested in a pug that was 11 weeks and 4 days old called donut that has just surprisingly justmoved to thurso but when i asked what the name of the company she was using she said that the website isn't active due to website maintancegone to search the company and came across this website and realised it was a scam im so glad that i saw this before i handed any money over her name is Isabella James
Loulou
- 10-Apr-19 @ 6:47 PM
I bought a pug from someone we paid £260for yous to deliver from Thurso to kilwinning and they said that l had to pay an£398.00 and l refused to psy and l think there should be brought here for delivery from a lady in Thurso
Hyper
- 13-Mar-19 @ 12:31 AM
Today I paid 200 pounds for a husky puppy. The owner wrote to me that I should send the money to the Western Union courier, so I sent the cow. the courier sent me an email that I have to pay £ 500 as insurance, and that the payment will be refunded tonight on delivery of the dog. I was wondering, and I did not send 500 pounds anymore. I have no money, no dog. We have 4 small children and now they have nothing to eat, so never send the money in advance! By the way, I sent a penny to Cameroon, with the courier headquarters there.
Jaroslava
- 29-Jan-19 @ 12:38 AM
I've had this twice now! Two ladies emailed me saying they had dogs in Belfast and would ship them over to the UK for £100. Luckily I will not give money until I have viewed a dog and know it fits into my family as I have a little one.
Emy
- 13-Jan-19 @ 11:03 AM
Hi think I've uncounted on the same person he advertised the puppy in Nottingham which was not to far from me but then when I made contact though email he then convinced moved to Orkney Scotland he didn't Evan offer me to see the puppy he just said it was £100 for the puppy and an extra £50 for the courier then he rang me to tell me to follow instructions on email and to do it quickly was suspicious had a very strong accent so went to my bank to ask there advise and lucky I did cause she told me not to and he was clear it was a scam
Laura
- 18-Dec-18 @ 4:44 PM
This is for madmum. I have been speaking to the same lady regarding a pug. Exactly the same as said by madmum. This is definitely a scam. She advertised this on Facebook. I have now said it will be better for me to come and view and I've had no reply.
Hel
- 16-Dec-18 @ 2:00 PM
Hi I've been after a puppy on Fb 14 week old pug, the lady wants my details so she can have her delivered to me tomorrow cost of £120, not sure if it's a scam, my daughter would be heart broken if the dog never arrived she said because of Xmas I can pay the other £150 after Xmas which was the price of the dog as she wants it to go to a loving home......please help as I don't know what to do she doesn't seem to want to give me the name of the delivery company and they will only take card payment!! I don't wanna be scammed, she is in Scotland due to a marriage breakup and not having time for the dog
Madmum
- 15-Dec-18 @ 10:16 PM
I've been having correspondence with a Norbert Adkindon about a supposed German Shepherd puppy, full kc registered and trained for 500quid? I don't think so, so I googled and straight away this site popped up. I have asked what they have to say for themselves but have a feeling I'll be waiting a very long time. It's amazing how asking for a PayPal address scares people when you say you don't do business any other way!!
Clairem1604
- 5-Oct-18 @ 4:54 PM