My Dog is Frightened of Car Travel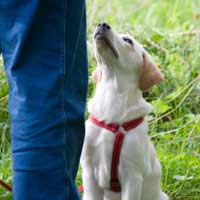 When Carol Swan adopted her dog Frankie she had hoped to be able to take the dog to work with her but Frankie had other ideas.
Dog Adoption
Carol adopted Frankie from a breed rescue society. She had arrived with them via a national dog home and there were no records of a previous owner as Frankie was found wandering the streets of London. Carol explained, "Frankie was a cute dog and very friendly. Considering what her life must have been like she bore no malice to man or beast. She was knee high to me and had a shaggy coat, goodness knows what breeds are in her makeup but we were good friends from the first day she came home with me. The journey home had been hectic as Frankie was quite excitable; I put it down to car travel being a new experience but as the weeks went by things got worse.
Take Your Dog to Work
I travel a lot with my job as a sales representative and I had hoped to be able to take Frankie with me. To begin with she just whined and dribbled when in the car but gradually she objected more and more to being in the vehicle. I sensibly used a dog car seat belt and this did keep her anchored down but even so her distress upset me very much. My vet suggested sedatives but I thought that she would still know what was going on in her sedated state and it could make things worse.
Dog Training Classes
Luckily her training class was within walking distance so her social life was not dependant on our car. As I got to know people I told them of our problem. One lady explained that her Labrador had been the same but now loved the car. What she told me made sense and I decided to use her ideas to train Frankie to enjoy our car.
Enter and Exit
I decided to devote a whole week to Frankie and her car phobia. I booked a week off work and we just played in the garden. The car doors were left open in the driveway and I would throw her toys through the open doors encouraging her to retrieve them. I also threw small food treats into the car so she started to accept the car as a friendly place to be. She would grab the treats and run off before eating the treats. Then I threw large biscuits and waited until she got fed up with taking the food away and actually eat the biscuits on the car seat. My upholstery suffered but it was a small price to pay.
Dinner Al Fresco
On day three we spent the day in the car, leaving the doors open. I put the radio on and read a book. Gradually Frankie crept into the car but I ignored her. At lunchtime I took my meal into the car and then did the same at dinner time. Frankie followed and could see that I did not fear the car. She gradually sat in the car with me and started to snooze at peace with the world. By day five I was able to give her meals in the car and still leaving the doors open she took to hopping in for a sleep when I was in the house.
Start the Engine
By the end of the week I felt confident enough to start the car engine and Frankie just cocked one ear and took no notice. I clipped on her seat belt but we sat for an hour without going anywhere. I rewarded her with a raw carrot. It was time I thought about her waistline!
Later that day I started the engine again, clipped her in and we set off for a short drive around the block. Frankie was slightly nervous but did not fret as she had done in the past. Over the next few weeks I extended her journeys and she seems now to have forgotten her past fears. These days Frankie travels with me to work and we are off on a touring holiday of the South coast in the summer. My perseverance paid off in the end, but then Frankie was worth it!"
You might also like...