Carrying Pets in Caravans and Motorhomes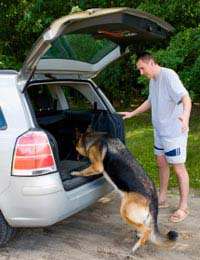 A journey with a pet must be planned in advance. Even when taking a home on wheels such as a caravan or a motor home a pet's comfort must be observed. Would you feel happy with your pet being towed alone in a caravan whilst you are many feet away in a car? A cat or dog could become upset and damage the interior whilst a smaller pet even in a cage can become so distressed that they are taken ill or die. Ideally a pet should accompany the family in the car and the caravan should be used when the whole family are together. A motor home is another matter as a member of the family can stay close to the pet whilst travelling.
Harnesses
Cats, dogs and some other pets such as ferrets can wear harnesses that secure them to a car's seatbelt system so that they are safe throughout a journey. It is possible to purchase harnesses that with a lead attached can be used when walking the pet. The harness can also be attached to a seat in the dinette area of a motor home. It is also possible to have a strong metal ring attached to the floor, wall or table leg in the motor home so that a dog or cat can be tethered comfortably during the journey without becoming a missile if the driver should have to break quickly.
Cat Flaps and Dog Gates
Caravans and motor homes can be adapted to have cat flaps and dog gates in the doors. Also, windows that open can be fitted with mesh grids so that there is an airflow for your pets without any chance of them escaping.
Plan Ahead
When taking pets on holiday in caravans and motor homes check that any caravan park you intend to visit accepts pets. Some even charge for visiting animals so account for this when planning a trip. It may be that animals are not allowed to be exercised in certain areas of the caravan park and most certainly will not be permitted inside restaurants and entertainment areas unless they are assistance animals. Check the website of the caravan park or telephone for information.
Cages
Cages are perfect for all sizes of pet as the animal has their own space that can be used as a bed when not in transit. Cages can be bolted into cars or attached within a motor home so that they do not move. Latest designs, when installed correctly, have been shown to withstand crashes. This is very comforting for owners who travel a great deal with their animals.
Fish and Reptiles
If travelling with fish and reptiles in tanks it may be advisable to place then in containers with lids to save escape or in the case of fish have them tipped if the car hits a bump. Take advice from the breeder or a pet shop for the best container on the market for transporting these types of pets. Above all think of their comfort and have enough air gaps in the container.
Name Tags and Signs
Any pet that wears a name tag should have it altered so that it shows a mobile telephone number of one of the party on the trip. A 'dog on board' or 'cat on board' sign in the window of the motor home or caravan would alert passers by to the fact that animals need rescuing if there is a fire or accident. Dog on board signs also deter would be burglars.
Blankets and Covers
For pets that travel in cages place their usual bedding in the cage so that they feel at home at all times. It will be a familiar area for them. If the pet is left alone in the caravan while travelling do not leave food or water as the animal may choke and with no one to assist them they could die.
Rest Breaks
Travelling with pets requires more rest stops than one usually takes when travelling alone. Park your vehicle in a cool shady spot and give the pet time for a quiet rest and a drink before resuming the journey. Dogs and cats will need to relieve themselves but keep them on a lead at all times as they are in a strange place and may decided to run away in panic. Above all do not leave the pet in a hot car, caravan or motor home, as they will expire very quickly.
Stolen Pets
Sadly pet theft is on the rise and something we should all be aware of. Leaving any animal alone or off lead or harness may result in losing a much-loved family pet. Be aware of a pet's safety at all times.
You might also like...