First Aid for Pets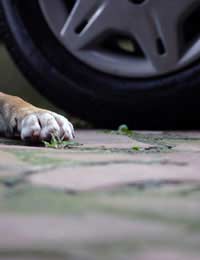 The first rule, if your pet has had an accident, is to contact a vet as soon as possible. In the interim there are things you can do to help the animal.
Locality
If you are not in the vicinity of your own vet contact the police who will either call out a local vet or help you transport your pet to a nearby veterinary surgery of pet hospital.
Strange Pet
It may be that you come across an injured animal. Be aware that many normally docile animals can be dangerous when they are injured. They will be frightened and possibly try to bite you. Rather than touch the injured animal just try to keep traffic and other people away from him whilst waiting for help to arrive. Here are some of the possible injuries a pet can sustain - It is possible that in some instances you can administer help until a veterinarian arrives.
Cuts
Never put substances onto a deep cut, simply cover and wait for assistance. However if the wound is bleeding profusely cover with a clean pad and administer pressure to the area to stop the flow of blood.
For small cuts and grazes clean the area with a saline solution and cover to keep clean and stop the animal licking the wound.
Burns
Never burst blisters or administer creams to the injured area. Rinse with cool water for at least five minutes or until veterinary help arrives.
Drowning
Think of your own safety when trying to rescue an animal from the water. There have been many instances of owners who have died while trying to rescue a pet from rivers and lakes. If the animal is not showing signs of life hold them by their rear legs and swing from side to side, this will force any water in the lungs to escape and hopefully the pet will start to breath.If there are no signs of breathing stretch the animal out on his side and pull the tongue out flat so it is not in danger of choking or blocking the airways. Also check that there is not any debris blocking the airways.
Check for a heartbeat, if there is not one administer regular bursts of pressure to the chest (taking care if it is a small animal that you do not injure the ribs). Check again for a heartbeat.
Next, close the pet's mouth, extend its neck and blow vigorously up his nose until he gasps for air.
The above procedure can also be followed if a dog has collapsed for any other reason.
Note: Whilst carrying out these procedures ensure that someone has called for veterinary help.
Transportation
If it is left to you to transport an injured pet to a veterinary clinic be very careful when holding the animal. Not only is the animal likely to bite as he will be in pain and frightened but by carrying him in the wrong way you could exacerbate the injury. While it is alright to carry a small animal in your arms place a larger pet onto a coat or blanket and enlist the help of another person to help carry the pet to the car.
While it is commendable to try and help an injured animal it is imperative that he is transported to a vet as soon as possible.
You might also like...