The Countryside Code and Your Pet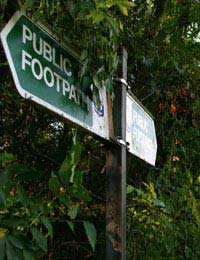 For those taking holidays in the UK and intending to walk their dog in the countryside The Countryside Code is something they should not only be aware of but obey as well.
Walking
When walking your dog in the countryside remember to keep him on a lead if you are not confident of his behaviour. Just because it is not a built up area does not mean you can let him off to roam freely as he could cause and accident and upset the wildlife.
Common land
Between 1st March and 31st July you must keep your dog on a short lead whilst walking on common land. If signs say 'keep off' please do so!
Gates
Close all gates as you pass through them, valuable stock may be let loose onto the road if you are not observant. When opening a gate to enter a field or farm are you sure you are not trespassing? Public footpaths are marked and can be followed but fields are not there for you to let Fido off his lead for a run. You could be destroying valuable crops.
Animals
It is not cute for your dog to herd sheep or worry cattle. Not only is your dog liable to be shot by he farmer for sheep worrying but the animals would be shocked and could lose their young. A dog running amongst cattle is likely to be kicked or trampled to death.
Birds and wildlife
By letting your dog poke around in the undergrowth and hedgerows and run amok in fields he could destroy nests and separate birds from their eggs. Many farmers are conserving the environment and setting aside part of their land to encourage wildlife. A dog let loose to wander at will could destroy all their hard work.
Chips
Letting a dog run loose could mean that he becomes lost. By micro chipping your pet you stand a chance of finding him again. Remember that the chip details should be updated if you have moved. Failure to do this would mean that there is less likelihood of your beloved pet ever returning home again.
Country Lanes
Country lanes are narrow and usually twist and turn. By not controlling your dog he could easily be hit by a car coming unnoticed from the opposite direction.
Pick it up
Just because you are tramping through fields does not mean you do not have to pick up after your dog when he defecates. Dog mess left in the countryside can destroy the local flora and fauna and unbalance to Eco-system of the area. It's still not nice to walk in whether you are a farmer or a child.
Driving
When driving in the countryside try to be aware that livestock may be in the road ahead. In some areas there are deer and other wildlife wandering that are liable to be hit if you are driving too fast or not taking care.
Horses
Always give horses and their riders a wide berth if you come across them. These animals can be spooked and throw their owners.
Good Citizen
The Kennel Club has started schemes where your dog can train to be a good citizen. There are different levels of awards but by just passing the first medal your dog will be able to enjoy the countryside and you will be confident that his behaviour is impeccable.
You might also like...