My Dog Hated Our Farm Holiday: A Case Study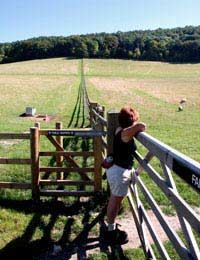 It was Jennie's first holiday in the UK with new husband Sam and their rescue dog Tilly and should have been a time to relax and enjoy themselves. All went well until they arrived at the farm.
Car Travel
Jennie and Sam had travelled overnight by car from their home in London to the West of Cornwall. The stop offs had been planned so that five year old Tilly, a border collie could take a walk and relieved herself. Tilly had been adopted from a rescue centre some six months previously and had settled quickly into their comfortable terraced home and had never caused a problem in the time she had been with the couple.
Fright
Jennie takes up the story, "We arrived at the farm after a very long drive. Tilly had been great during the journey and had spent much of the time snoring on the back seat of our car. We stopped off to visit the Lost Gardens of Heligan. Being off season Tilly was allowed in as long as she stayed on her lead and was no trouble at all. She enjoyed the fuss made of her fellow visitors and really loved sharing our first Cornish cream tea. It was late afternoon as we continued our journey arriving at the farm as dusk set in. After collecting the key to our cottage from the farmer's wife we unpacked and had an early night. It was the next morning that our problems started. We took an early morning stroll around the farm and noticed that Tilly was very tense. She refused point blank to walk near a field of cows and sat refusing to budge, cowering on the ground with fear. We assumed she was finding her new surroundings strange and thought she would soon settle but I was wrong things grew progressively worse."
Beach Trip
Jennie and Tim took Tilly to a nearby beach where she calmed down and enjoyed a dip in the sea with Tim and played ball on the beach for some time. Perhaps her earlier nervousness had occurred because she was unsettled in her new surroundings but as they approached the farm not only did Tilly start to howl with fear but tried desperately to climb out of an open window. Jennie, who was driving was petrified that they would cause an accident as Tim tried to hold Tilly still.
Fear of Cows
"Tim received several scratches as he held onto Tilly's collar and tried to calm her. Once we were in the cottage she calmed down but kept looking towards the door with fear. We tried to get her outside to do her business but she refused point blank. We had no choice but to lift the rugs and put down some newspaper in case she had an accident during the night. We had done the right thing as Tilly had a very upset stomach and by the next morning she was very poorly. The farmer was very sympathetic and told us his vet was due that morning and he made a detour to visit Tilly. After a careful examination he was confident that Tilly's problem was that she hated farm life and something most likely had frightened her in the time before we adopted her and she still had terrible memories of it. To prove the point he took her for a walk and very soon came back with a shaking Tilly – it was the cows she was afraid of.
Boarding Kennels
The vet gave her a sedative and rather than dope her up for a fortnight we arranged to put her into a nearby boarding kennels where we collected her each day for trips to the beach. Tilly loved the kennel and her outings whereas we were miserable to think we had put her in this position. We also missed her curled up on our bed each night snoring her little head off.
The Future
These days we tend to have beach holidays with Tilly and steer clear of farm animals. Tim did contact the rescue centre who confirmed our thoughts that perhaps she had been startled by cows as a young dog. It seemed she was found wandering in the countryside so could well have been in a field with cows who had followed her – they can be very inquisitive animals. Either way we now taper our holidays to suit our dog. How strange is that!"
You might also like...