My Dog Went Missing from the Kennels: Case Study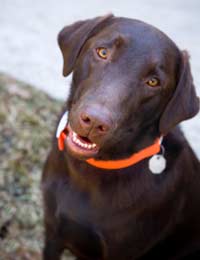 Daisy Green's dog Mimi was left in kennels when they stopped over on a travelling holiday and the hotel did not accept pets. Due to a mix up her dog was sold to another family.
Last Minute Break
"We booked a last minute break in Devon, my husband, Dave had some leave due, the weather was lovely so we looked online, booked and set off. The hotel overlooked a lovely beach and the website said that they were dog friendly. Mimi our chocolate brown Labrador settled into her cage in the back of the car and we set off. We lived in London and it took us five hours to reach the hotel as we stopped off a few times for Mimi to stretch her legs. By the time we arrived at the hotel we were ready for dinner and a walk on the beach.
No Dogs Allowed
Upon entering the reception area of the hotel we were met with a frowning receptionist who told us that unless Mimi was a guide dog she could not enter the premises. I explained that we had booked a room for the next five days but the lady checked and said it just said two adults. I asked to see the manager and a harassed looking woman arrived. She took one look at Mimi, who by this time was asleep at my feet and demanded we leave. I explained again that we had booked and that the website said they were dog friendly. It was then we were informed that a new management team had taken over the business and they no longer accepted dogs. The website was due for a makeover and they would not change their mind.
Boarding Kennels
We tried to find another hotel but there was not a room available due to a festival taking place in the resort. The manager suggested we leave Mimi in the car but that was not an option. She then suggested a boarding kennel. Mimi had visited kennels before so we knew she would be fine in one and we could collect her each day and take her out. The manager gave us the number of a boarding establishment and we headed straight there to book her in. A junior member of staff met us and showed us round. Apart from the boarding part of the business they also took in stray dogs and rehomed them. The place was clean and the young man friendly so we left Mimi in their care after showing her vaccination details were up to date. We arranged to return the next morning to collect her for a day on the beach.
Missing Dog
After a leisurely breakfast the next morning we went to collect Mimi and met the owner of the kennels. She seemed quite worried and I feared that Mimi was ill or distressed that we had left her in a strange place. When the lady explained that they had mixed her up with another dog and she had been sold I burst into tears. It seemed another brown Labrador was due to be rehomed and staff had mixed the two dogs up. The confusion was added to as the young lad who booked Mimi into the kennels had put her into an empty kennel close to the rescue part and no one expected there to be two brown Labradors in at the same time. Someone made me a cup of tea to calm me down while Dave and the owner went to make some phone calls. There seemed to be a lot of arguing but all I could think of was my baby being taken from us and perhaps never being seen again.
Going Home
It seemed an eternity before a car pulled into the kennels and a couple with two young boys climbed out of a car followed by Mimi. She seemed no worse for her adventure and was pleased to see us. The boys were tearful as they hugged Mimi goodbye but we waited to watch them united with the correct dog that did look a lot like Mimi.We returned to the hotel collected our luggage and headed for home. In future I would check carefully that Mimi was accepted as a guest in a hotel and have it in writing. If not we would stay home with our precious dog and enjoy days out instead."
You might also like...