Dog Gave Birth on a Motorway Layby: Case Study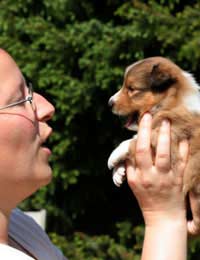 Planning for the birth of a litter of puppies is an exciting time but when the puppies arrive early as was the case with Hayley Oliver's bitch Gracie it was a tense time, made worse by the fact they were in the lay by of a major motorway.
Car Problems
Hayley had been visiting her parents some twenty miles away from her home. As usual she took Gracie, her sheepdog with her. "Gracie had been fine at my parent's house. She'd had her usual share of digestive biscuits and had settled in front of the fire to snooze. Her puppies were not due for another week and as her previous litter had only been three days early I knew that there was not a problem with taking her out for the day. After all she wasn't sick, just pregnant." We were halfway home and on a busy stretch of the M25 motorway when the brake cable went on my car. Luckily I steered into the lay by and put on my hazard lights. Straight away I rang the AA and thought about climbing out of the car and standing behind the barrier with Gracie as we were told to do. She seemed restless and I thought it better to stay with her rather than have her out in the night air. The lorries speeding past made the car shake and it would have felt worse out of the car. Also I was worried about the effect the fumes would have on her."
Calling for Help
Hayley only had to wait twenty minutes and the AA man appeared. "After a quick look at the car he informed me that he could fix the brake cable but would tow me off the motorway as there was a lay by a mile away. Gracie was fine as we were towed, she was digging her blanket around a bit and sighing but I put it down to the unusual trip she was having. She is usually a good dog in the car so I was slightly worried by her behaviour but didn't think too much about it as I steered the car behind the AA man's van.
Do Not Panic!
As the man fixed the car I took Gracie for a quick walk but she wanted to get back into the vehicle. I have an old estate car and she has plenty of space in the back section as I keep the rear seat flat so her fleece blankets can be spread out flat. She continued to dig them around and alarm bells rang when she squatted. Too late, out popped a puppy and she settled down to clean and nurse it. I knew that she was due to have at least ten as she had been scanned. The scans are fairly accurate so I was in for a long wait. I explained what was happening to the repair man and he was brilliant. He gave me a roll of paper that he used to clean his hands with and offered to boil some water. I did explain that it was an old wives tale about boiling water for the birth and he said it was to make us both a coffee! I was so impressed with his little kettle that plugged into the cigarette lighter that I now have one myself. Gracie is a good mother and apart from changing the paper underneath her a few times I had very little to do.
Travelling Home
The car was fixed and by then four puppies had entered the world, Derek, the repair man – we were on first name terms by then - had stayed to watch. I decided to drive the rest of the way home slowly but be prepared to stop if Gracie was unhappy. The puppies were happily feeding from her and unaware of their unexpected entrance into the world.
Puppies
Derek offered to follow us to the junction where we turned off the motorway and he waved as we parted company. I'd promised to let him know how the puppies were doing and four weeks later he visited with his wife to see the little brood, they both fell in love with them and when the time came for the puppies to go to their new home Derek and his wife were the proud owners of one of the boys. That was the last litter of puppies that Gracie had and after that little episode I was quite relieved it was!"
You might also like...