Our Dogs Didn't Get Along: A Case Study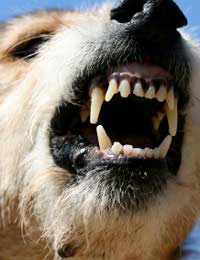 Julia Gregory was overjoyed when she married her boyfriend Barry but unfortunately their two dogs had different ideas.
Fighting Family
"We had known each other for two years before marrying and funnily had met while out walking our dogs. My boy Sam is a seven year old cross breed with a lot of sheepdog in him. Barry has Sally a five year old spaniel cross Labrador. Both always played well together and never had a cross word.
Early on Barry had to move to the other end of the country for work which meant that we often flew to visit each other leaving our dog at home so never had the chance to live together before we all moved into Barry's home together after the wedding.
We'd left the dogs in Kennels whilst on our honeymoon and went to collect them as soon as we arrived home. The journey home from the kennel was fine but once home Sally went to her basket and ignored Sam. Sam had his own bed nearby but being a strange house he was inquisitive and started to sniff around quickly finding some of Sally's toys. Sally had never been a vicious dog but she flew at poor Sam and took her toy but in the process Sam received a nasty nip."
Continuing Problem
"We thought that the dogs would settle and yes, out for walks and on neutral territory they were great friends but after the same thing happened a few times Sam became withdrawn and would cling to my leg and not want to be left alone with Sally.
"Bedtime became a problem as Sam would not want to be left with Sally and would howl until we let him come to our room for the night. Even bedding them down in different rooms didn't settle them as Sam would scratch at the door and being a large dog he made quite a lot of damage. It got to the point where we had to consider whether to rehome one of them but then we started to argue over whose dog was to go!"
Help at Hand
"Luckily we bumped into Betty James whilst out walking on the heath with Sally and Sam. Betty was a fellow dog walker who had often stopped to speak with us. I explained our problem and Betty gave us an invitation which we thought wouldn't work – but then we had nothing to lose! It seemed that Betty helped to run a dog obedience class. Although Sam and Sally were a little older than the usual dogs that started her classes, she thought they may enjoy working together and it may take their minds off their differences of opinion at home."
Class Night
"Well, we attended the beginner's class and Sam and Sally took to the training like ducks to water. They learned quickly and Betty made sure that they were always side by side when working in class. We did our bit by practising what we had learned while out on our walks and even made the dogs follow the routines in the garden. Gradually Sam and Sally sorted out their differences and were soon quite happy to share our home and their toys."
You might also like...