My Dog Wouldn't Travel in My Car: A Case Study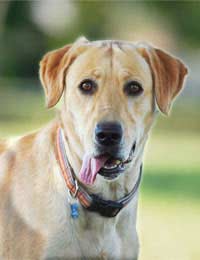 When Jenny Simmons rescued a three year old Labrador from a local shelter she thought he would be company in her car when she travelled from Kent to Devon each month to visit her parents. But it seemed that Buster had other ideas.
Setting Off
"Buster settled well into our home, he loved his new bed and walked well on his lead when we went for his daily walks to our local park." Explained Jenny, "the weekend after his arrival we were due to drive down to Exeter to visit my parents and my husband Graham was sure that they would be delighted to meet Buster.
We had planned to leave early in the morning in order to miss the busy times on the motorway so it was still dark when we left home. We woke Buster from his sleep and took him into the garden to do his business before setting off. I'd packed some food for the journey as he never had his first meal of the day until later in the morning. Buster settled on the back seat of the car wearing his harness that clipped to the seat belts. I'd placed his blanket on the seat so he was warm and comfortable. "
Problems
"We were well into our journey on the M4 motorway before the sun came up and there was more traffic about. Our problems started when a large lorry overtook us causing our car to rock slightly. It was one of those really large lorries that were in convoy and he tooted his air horn as he went passed. Buster, who had been sleeping fitfully screamed in terror and lunged at my husband who was driving the car.
His fear was such that he snapped his harness and was leaping about the car in terror. Graham realising that poor Buster could injure us both in his fright managed to steer the car over to the hard shoulder using one arm to protect himself and the other hand to steer the car. I was trying to grab hold of what was left of Buster's harness and trying to calm him. Leaning backwards from the front seat to hold onto Buster meant that by the time the car stopped I had twisted my wrist and my spectacles were broken.
Poor Buster had dived into the space between the seats and was screaming in fear. Graham climbed into the back of the car and between us we calmed him by turning on the radio to drown out the sound of the lorries speeding by. I covered the side windows with towels from our suitcase and gradually he quietened. "
Home
We decided to go home as it wasn't fair to Buster to continue the journey. I put on my spare spectacles and drove as best as I could with a painful wrist while Graham sat in the back with Buster and pacified him by sharing our packed lunch. It was amazing how a scotch egg could take a large dog's mind off his problems. Once home we visited our vet who checked Buster over. He was not harmed by his adventure but gave us a prescription for a mild sedative just in case he should need to travel in a car again. He also suggested a cage in the car but I was worried this would frighten Buster even more. On speaking to the rescue kennel we found out that buster had been found wandering on a motorway – obviously dumped there – so no wonder our happy family outing put him in such a panic. I dread to think what he went through before being rescued!"
Success
"Once we knew why Buster was so scared of travelling in the car we started to reprogram him. Graham made a new, stronger, harness and sat with him as we made short journeys in the car each day. Once Buster was happy we tried a short distance on a motorway and gradually built up the distance. I will admit to be petrified the first time that we attempted the journey to Devon once more but taking a longer route on A roads and stopping off every hour for a short walk and refreshments. Buster took the whole trip in his stride; he shared our lunch and was thoroughly spoilt. His demons laid to rest at last. Arriving in Devon he was further spoilt by my parents and now makes the long journeys without a quibble – as long as he has his scotch egg!"
You might also like...