Farm Holidays With Pets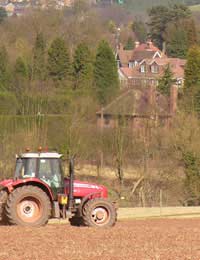 Farm holidays can be relaxing and enjoyable. If pets are allowed on the farm then certain precautions should be observed.
Booking
Check that you are allowed to take your pet with you on the farm holiday. Do not assume that because you are going to a place that has a vast number of animals that another one won't matter. If you are staying in the farmhouse respect the work hours of the farmer and his staff, as they will be up at the crack of dawn and no doubt into their beds early in the evening. They will not want a noisy pet waking them in the middle of the night.
Animals
If you are taking pets on a farm holiday be aware that you will be in very close proximity to the animals on the farm. Will your pet be under control? Will he be unnerved by large cattle and other animals that are probably unusual to him?
Self Catering
Chances are that you will be self-catering on the farm. Farms can be messy places so make sure your pet is not walking mud and other mess into the rooms you are renting. Wash his feet outside before entering the room and keep some old towels handy to dry him off.
The Countryside Code
Observe the countryside code and do not let your dog off his lead where he can cause distress to cattle and other animals. Not only can your dog be trampled under the feet of the other animals but also the farmer could shoot him for worrying the animals.
Disease
When going on a farm holiday observe all the rules about cleanliness around the farm. With recent foot and mouth outbreaks and the threat of bird flu it is down to every person visiting a farm or walking in the area to be vigilant so that holidaymakers do not spread disease.
Machinery
Never let your pet wander off-lead around the farm. Apart from him going into areas he is not allowed there is a lot of large machinery on a farm including delivery lorries, milk vehicles, tractors, agricultural machinery and milking equipment.
Walks
Having a farm holiday means that you will be able to indulge in country walks stopping off for cream teas and ice cream. Remember that although your pet will enjoy the exercise he will not benefit from eating cream and ice cream. Chances are that he will end up being sick and having an upset stomach.
Wildlife
Quite often farmers are involved in developing areas of wetland and meadows to encourage wildlife. Don't let your dog go rushing through the undergrowth and jumping into ponds. He will upset the wildlife and disturb breeding programmes.
The Sea
If your farm holiday is by the sea no doubt your pet will want to follow you in for a swim. It is normally accepted that dogs can swim but have you ever seen your dog swim? Further more if the beach signs are not observed he could be pulled out to sea by a strong current and need rescuing. So be aware of the sea and look out for warning signs. Please also note that many UK beaches do not allow dogs in the summer season.
You might also like...