Taking Pets to Hotels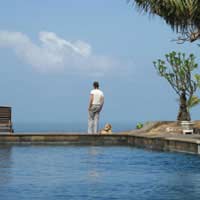 If you have a pet that enjoys travelling with you why not take your next holiday in a hotel – a pet friendly hotel that is.
Where to book
There are many hotels that accept cats and dogs as paying guests. Most large newsagents and bookshops have a section within the travel shelves for pet friendly holidays. You should be able to find a suitable hotel in the area of your choice with no difficulty. You will also find adverts of pet friendly holidays within the pages of canine, feline and pet publications.
Points to think about
When booking your holiday ask what floor your room is on and whether there is a lift or ma staircase. Some pets are not keen on the confined space in a lift or the movement, as it is alien to them. If the pets are unsure on stairs and if you have to climb three flights in order to exercise them the holiday will be very tiring.
Food
Some hotels do provide food for their four legged guests but normally you should take your own. If the room is heavily carpeted it may be wise to feed him in the en suite bathroom where you can wipe the floor if he makes a mess. Some dogs have an attraction to toilet rolls and soap so move anything you feel your canine friend would take a liking to during the night.
Protection
If your pet has a long coat or one that tends to shed make sure you pack a sheet that can be thrown over the bed so that he doesn't leave hairs on the bed coverings as he walks by.
Sleep
Never let the pets sleep on the bed even if he does so at home. Ideally you should take a cage so that he is secure at night and for the short time that you have to leave him to have a shower or visit the restaurant.
Barking
If there is a chance that the animal will be distressed when it is left do not leave him in the room alone. Put his cage into your car and ensure it is in the shade with a flow through of air and do not spend too much time in the bar or restaurant. Perhaps there is an outside dining area where he could sit while you eat. Better still visit a pub with a garden as usually dogs ere welcome in such places.
Lead
Never let your dog off lead in the grounds of the hotel, especially inside the building. Be aware that some people do not like animals of any sort and make a scene if your pet should try to jump up them or lick their hand. Try to take him somewhere out of the way for him to do his 'business' as it wouldn't do for him to be seen defecating in front of the dining room window! Ask the hotel manager what the facilities are for pets as there may well be an area for them to exercise freely.
You might also like...