Getting Pets Used to Strangers When Travelling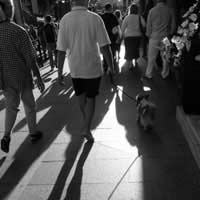 You pet will be meeting a lot of people that are not known to him during your travels. With a little fore thought and training strangers will not be a problem to your pet.
Territory
When travelling in a car with your pet make sure they are either caged or restrained at all times. There will be times when you need to speak to people through an opened window or perhaps they need to check your passport or tickets. The last thing you need is an angry pet launching himself or herself at the throat at an unsuspecting person. It is understandable for the animal to be upset when seeing a stranger. Not only is the car his territory but he will be protecting his family as well. You need to control these situations.
Windows and Doors
When opening windows and doors of the vehicle remember to check that any pets are secure and leads and harnesses are attached.
Sat Nav
A recent invention is satellite navigation for pets. This is a small attachment to the collar that enables the owner to find the pet if it should run off. This is ideal for those that travel with their pets but if the collar should be lost then the sat nav becomes useless.
Puppy Classes
Ask at your veterinary clinic about puppy socialisation classes. These are an excellent way for young dogs to get to know other animals and other people. They will become accustomed to being handled and will ensure that they are more confident in the outside world.
Vets
Tell you vet if you intend to travel with any other family pet apart from a dog as he may be able to advise on socialising the pet ready for his trips. You never know there may be a socialisation class for ferrets!
Obedience training
For a dog that is expected to travel on quite a few occasions it would be a good idea for him to be trained in obedience. Not only is this a fun thing to try but will ensure that your family pet is controllable under most circumstances.
Unusual People
Quite often the pet is upset by a stranger, as he has never seen someone with a beard, sunglasses, wearing a hat or perhaps with a different coloured skin to his own family's. Some of these problems can be allayed by introducing him to people with beards or from other nationalities. Explain to the person that the animal has a problem and let the stranger reward your pet with a dog treat if he is good after being petted.
Titbits
When a pet is well behaved and is pleasant towards a stranger give him praise and sometimes a small titbit or piece of dog biscuit. Never shout or scold the animal if it is being noisy, as some pets will think you are barking and simply get more excited and join in.
Stress
Perhaps if all else fails you should consult your vet about using a mild sedative if your pet gets stressed during travelling. If it is not imperative for your pet to be part of the family travel arrangements it may be kinder to leave him safely at home with a family friend or in kennels.
You might also like...